About TruTech Tools
TruTech Tools is leader in HVAC/R eCommerce. They were established in 2007 and continue to be a pinnacle provider of the latest HVAC/R tech in the industry. Beyond the online sales, TruTech Tools also promotes advanced HVAC/R support and events. They look to serving your needs for the best testing equipment available for Contractors & Technicians working in HVAC/R, Building and Home Performance, Facilities and industrial, Energy Auditing and Home Inspectors.
Logo Creation
Do you need a corporate identity? TruTech Tools was a new newly formed HVAC eCommerce company that need a look. We created a well formed, attractive logo to give them a corporate identity to remember. If you need a logo or a corporate identity, look no further. Contact us to get started!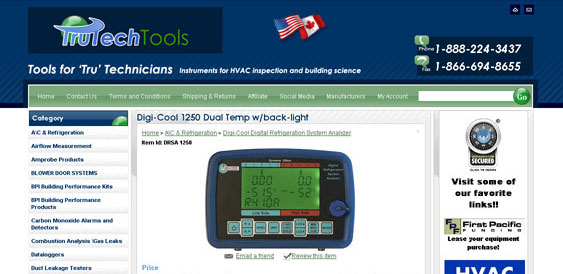 eCommerce Website
With having a with certain niche in the HVAC industry, TruTech Tools needed a site where they could sell. We developed an eCommerce site for them which propelled them from zero to selling millions in 2 years. Have a niche? Want to get started selling online? Contact us to get started today!
View More